The New Microsoft Writing Style Guide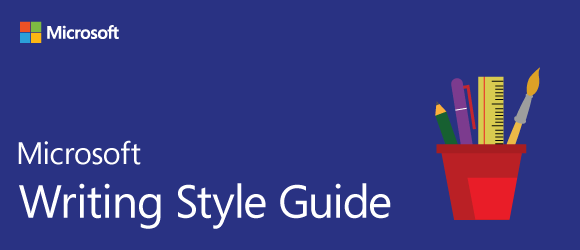 In the early 2000s, as Windows became the primary operating system, technical writers pondered how to describe the user interface before them. For those of us who remember those days, we were lucky that Microsoft provided a solution. It was called the "Microsoft Manual of Style for Technical Publications" (MSTP) and quickly became the technical writer's bible. The first edition was actually released in 1995.
As I began my career in technical writing in 2000, I was able to pour over a printed edition of the guide. For me, it proved a great introduction to industry standards. As I wrote my software user guides, it was a great help in making sure I used the right terminology. A later edition was also published as a downloadable CHM file.
The last edition of the guide was published in 2012 and although you could find style references in various Microsoft knowledge centers, the comprehensive style guide had not been updated. This is important because firstly, a lot has changed since 2012. The growth in apps for both IOS and Android has meant working with new operating systems and learning the guidelines recommended for those platforms. Additionally, user behavior has changed and so have the people who use the tools we document.
Microsoft has now released a new, comprehensive style guide. It's called the Microsoft Writing Style Guide and a stated aim is "a simple, straightforward style guide that everyone can use, regardless of their role." This is reflective of today's technical writing reality and is evidenced by the use of words like "simple" and "straightforward". Many functions writing technical documentation may not be what we would traditionally call "technical writers". The function can be fulfilled by content writers, tech support, PMs, etc.
Microsoft make it clear that the new guide "replaces the Microsoft Manual of Style" and that the new "style guide features updated direction and new guidance for subjects that weren't around when the last edition released." There's another acceptance of reality when Microsoft adds "…it's also a reimagining of Microsoft style—a tool to help everyone write in a way that's natural, simple, and clear." Technical writing has changed in many ways in the last 20 years, and the way we document today must reflect that. If you're still writing the same way you've been doing for the last 20, 10 or even 5 years, I would say stop and read today's style guides, not just from Microsoft, but from the many tech giants out there including Apple, Google, and Yahoo.
I'd suggest surfing through the new style guide. It's very well-written, using current writing styles, which are also discussed in the guide itself. The guide includes practical examples to make the guidance clearer. It includes subjects such as chatbots and cloud computing, plus much more. What it also is, in my view, is another good example of how documentation should be done today. It's online, pleasing to the eye, and well organized. Have a look yourself and see what you think.
I'd love to hear what other technical writers think, so feel free to comment below or write to me offline. And, if you've read this and want some help to produce modern technical documentation, get in touch with us now for a free consultation.